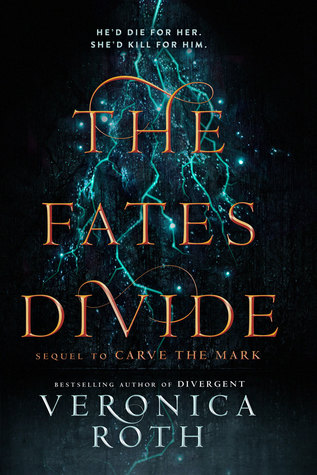 In the second book of the Carve the Mark duology, globally bestselling Divergent author Veronica Roth reveals how Cyra and Akos fulfill their fates. The Fates Divide is a richly imagined tale of hope and resilience told in four stunning perspectives.Fate brought them together. Now it will divide them.The lives of Cyra Noavek and Akos Kereseth are ruled by their fates, spok...
| | | |
| --- | --- | --- |
| Title | : | The Fates Divide |
| Author | : | Veronica Roth |
| Rating | : | |
The Fates Divide Reviews
It's gonna be awesome guys!!!!!!

There is no way I'm going to be able to wait until 2018 for this.

EDIT : 1/6/2018

"He'd die for her. She'd kill for him."

If you aren't intrigued yet, I don't even know what to tell you. Plus, I absolutely love the cover. It's going to beautifully on my shelf beside the first one:)

As I was one of the few who

the first book

I am really excited for this continuation of the story!

OMG!!! The cover and title dropped

! Honestly, I love the title, and the cover is aesthetically pleasing (it's gonna fit perfectly to the 1st book), I am still super excited for this book :D

I can't wait to see how this series turns out! I am in love! <3

There is no way I can wait an entire year for this!

2018!!!! It's so unfair to wait that long...

Potentially unpopular opinion: I don't like this cover. I don't like that the title is now orange and a different font from CTM. I think the silver would pop more on that dark background, and it really truly bothers me when fonts and text placement/spacing are different in a series.

I'm in the minority side who actually really enjoy reading the first book Carve the Mark.

2018 ???? I can't wait that long.

Okay, the first book sucks real bad but this sounds so cool and OMG, that cover!

THAT COVER! 😍

Loved CTM. Am so ready for The Fates Divide.